So I'm a little bit behind on my blogging. I blame it on starting work again after the holiday break and being on days. Since I am behind and I am also very tired, we are going to combine WIAW and my goal check. Let's get to it!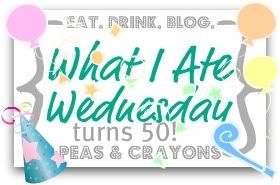 This is not my 50th WIAW, as you may have guessed by the title of this post, but it is
Jen
's 50th WIAW post. Congrats lady!! To celebrate, let's view my eats!
Breakfast
Chocolate whipped yogurt and off-brand honey nut cheerios!


Snacks & Lunch
I was running late, so I didn't have time to make lunch. I grabbed Craisins and Triscuits and for lunch added in a Morning Star Black Bean Burger! I LOVE those burgers! These also doubled as snacks throughout my work day.




Dinner
I hate eating fast food, but since I was running late this morning, I didn't get a chance to grab anything for dinner and I had to go right from work to volunteering, which wouldn't get me home til 8pm. Noon til 8p-ish is too long for me to go without food, so I stopped at Burger King. I figure this might be a less dangerous option: apple fries and veggie burger, minus mayo and add mustard. The sodium is not good though...




Pick Me Up Addiction
I literally was falling asleep driving to volunteer (Truth. It's scary.) So I decided to get some caffeine to help me make it through. Biggby Chai Latte with soy milk and a shot of espresso. I'm addicted to Biggby's Chai Lattes.
Overall, I'm not all that excited with my food choices today. The good thing about WIAW's is that I'm more mindful of what I eat, so that I can post something I'm proud of. Next week I think it will be better, because a friend of mine and I are having a home cooked dinner together...at least that's the plan now :)
Well onto part two of this post - my goal check!
GOAL #1: Walk 10,000 steps a day
| | |
| --- | --- |
| Sunday | 2896 |
| Monday | 3863 |
| Tuesday | 8877 |
| Wednesday | 4721 |
| Thursday | 6794 |
| Friday | 4245 |
| Saturday | 8446 |
This week is terrible for steps, but for exercise it is good. I went to the gym quite a bit, and I would take off my pedometer while running on the tread mill, so I think that is part of the reason for the low steps. See number #3 for more details on my exercising :)
GOAL #2: Eat healthier
On
last Wednesday's post
I asked people if they kept track of what they eat, and for what reasons. I didn't get any responses on here, but I did get some comments from my friends on Facebook.
I got links to a couple sites, so I'm going to work on trying them out and I'll let you know what I think.
I have got to find a way to track what I eat, so I can really determine what I need to change.
GOAL #3: Exercise
SO AWESOME this week!
I was out of work for the holiday break, so my mom, my sister and myself went to the gym Monday, Tuesday, Wednesday, and Friday! I don't think I'll be able to go that often when I start work up again, but if I can go at least one or two days a week (plus to my Zumba classes) that would be great. At the gym, I rode a bike, jogged/walk on the tread and lifted weights.
What did not happen, was that Mike and I did not use his weight bench. We agreed to use it at least once a week, so this week we have to make sure to use it.
Well that's about it, time to hit the hay, but first...
Do you have any less dangerous fast food options?