Welcome to another edition of: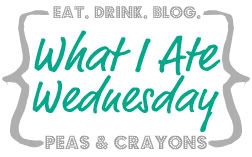 hosted by
Jen at Peas and Crayons
, who is sick, but had Paul, who I'm assuming is her husband, host this party! Thanks Jen and Paul!! Hope you feel better soon!
My sleep schedule has been crazy lately. I give my sister a ride to work in the morning at 3:40am, so I don't get to bed until after 4am most nights and usually don't wake up til around noon or so. Today was one of those days. So while you guys were having lunch, I was having
A piece of my mom's egg bake, which is eggs (I think one full egg and the rest were egg whites), hash browns, ham, cheese, salt and pepper. It is soo good! Plus a yogurt, and a delicious cran-energy drink, which is cranberry juice, with sparkling water to make it kind of carbonated and tea for energy. I love them!
A bit after this I had a snack.
My Grandma brought me some of this cookies on Christmas. They are soft molasses cookies made by Sandi's Donuts, a local bakery. I LOVE them!
I went to the gym with my sister and mom. I had some water while I was there. Here is my Facebook status that was inspired by my gym experience today, " "
Anyway after the gym I was hungry so I had lunch/post-workout snack of
left over stir fry with brown rice and a cutie. That black blur on the left, is my cat's paw, because he thought my cutie was a toy! So cute!!
I had a dinner date with my boyfriend today. He has been wanting to go to this local pizza joint, which I had never went to, so we checked it out. Great pizza! He also wanted to be part of the WIAW party so here he is:
I was hungry so we got some mixed vegetables before the pizza. It was carrots, green beams, zucchini and squash, with some butter on them. Pretty good! For the pizza, I got green peppers and onions on my side, Mike got pepperoni and sausage on his and look at the difference in grease! (My side was on the left, his was on the right)
Lastly, we had to try one of their desserts. We got a piece to share of their peanut butter pie and it was just as amazing as the server said it would be!
Maybe not the healthiest day of food, but it sure was delicious! We definitely will be visiting that pizza place again!
On a side note, I have been toying with the idea of keeping track of what I eat. Mainly to see if I'm eating as healthy as I want to be, like am I getting all my servings of veggies, fruits, dairy and grains? Am I getting a variety of these things? Possibly to count calories. So because of this I'm curious to see what your thoughts are on keeping track of your food
:
Do you keep track of what you eat?
If so how do you do it (keep a notebook with you at all times, recall it at the end of the day, etc)? Why do you keep track (to count calories, makes sure your getting your requirement of ____, etc?) Thanks for your input!!