Hello Everyone! It's Wednesday and I decided to jump into What I Ate Wednesday again. I really miss doing these posts, so I'm hoping to keep doing these every week. So without further ado....
"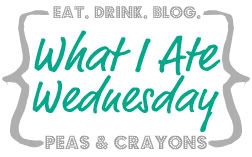 Breakfast:
I ate most the oatmeal before I snapped this photo, but I had Cinnamon Apple Oatmeal by Better Oats (I love Better Oats!) and half an cinnamon raisin english muffin with butter on it. Not picture is a glass of juice which I drank with my vitamins.
Lunch:
A ham, cheese and mustard sandwich on a sandwich thin, a dill pickle spear, a small apple and a mug of green tea with honey.
Snack:
Triscuits! I LOVE the new flavors they came out with. Plus Triscuits don't have a ton of ingredients and I can pronounce most, if not all of them, so this makes it a snack I'm happy to eat! Not pictured was a snack I had later in the day of a Fiber One chocolate peanut butter granola bar and a Skinny Cow cookies and cream ice cream sandwich.
Dinner:
More Triscuits, another small apple and chili mac with a light sprinkling of cornbread crumbs. The chili I used is a
Slow Cooker Vegan Beer Chili
from
Cassie at Back to her Roots
. I love the savory taste of the chili, mixed with the sweetness of the cornbread!
Well that's it for me. I'm exhausted, so I'm off to bed. Make sure to visit
Jenn's page
to link up with some great recipes and people!!