Wednesday. Of course you know that means I was taking pictures if everything I shoved in my face. This week is the celebration edition because one of my meals was a celebration and WIAW turns 70!! WIAW, you don't look a day over 30 ;) Grab some cake and let's get to the eats!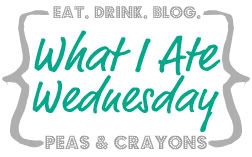 Breakfast:
Cereal (honey oats) and yoplait Greek yogurt.
Lunch:
We had a birthday wedding celebration at work for a co worker, so we had hot dogs, veggies, fruit, chips cookies and cake. As you can see from my picture I did not have any chips or cookies!
I did however have a small piece of cake. I couldn't turn it down!
Snacks: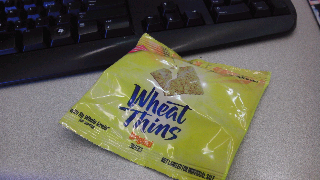 Wheat thins before Zumba.
Then my fiancee's old high school was doing a fundraiser for their arts program at Biggby's. Now if you read my blog you know I live Biggby's chai tea, so buying a chai to support a local high school art program? You don't have to ask me twice!!
Dinner:
Quesadillas which I loaded with chicken, black bean and corn salsa, more corn, onion, yellow pepper, and taco cheese.
For fruit delicious strawberries.
Later this week I'll post about my weekend trip to Ohio and how I tried to eat healthy and stay hydrated. In the meantime, check out the
What I Ate Wednesday party
!