This week has been crazy for me. I think my Facebook on Monday summed it up best:
"This week: 8 chapters of reading for class, a paper due on Thursday, possibly a quiz, friend from out of town visiting, baby shower for said friend on Thursday, poster presentation at U of M on Friday, spending the weekend in Ohio. And prep for all these things this week. breath, Katie, breath. I think I'm going to need some coffee...."
Le sigh. Is it Friday @ 5pm yet? No?! It's time for: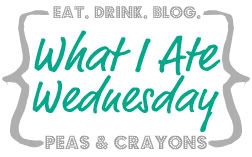 Breakfast:
Multi-grain toast with store brand raspberry jelly, Crystal Light peach tea, Yoplait Greek blueberry yogurt, Omelet made with one egg and one egg white, yellow pepper and low fat mexican cheese.
Mid-morning snack:
A mini twix. My co-worker, who I share an office with, has a bowl of mini candy bars that I have to walk pass to get out of the office and to go to my desk. I walked by it a million times, but only took this one candy bar!
Lunch:
I had a lunch meeting and they bought lunch. I took a veggie wrap, salad with some kind of delicious red dressing that had a little kick to it, a few chips and a chocolate chip cookie, water to drink.
Afternoon/Pre-Zumba Snack:
Southern Cantaloupe that I got from the
Fulton Street Farmers Market
.
Dinner:
Garlic butter croissants, roasted potatoes -that I made myself! and asparagus (left), more cantaloupe, jambalaya (right) that my mom made!
Roasted Potatoes:
I made these in a 9x13 with olive oil, garlic powder, basil, and sea salt. Cooked in the oven for one hour @ 400 degrees. They were very good!
Other Drinks:
I had water and a chai tea at my friend's house.
Well I'm going back to dealing with the rest of my crazy week! Make sure to check out
Jen's WIAW Party
to meet people and get some good ideas of food! OH! and check back here later this weekend or early next week for a post on eating healthy while traveling and not having anything to cook with.