I got my first smart phone a few weeks ago, so I have been playing with it quite a bit. This WIAW is the mobile version because I'm typing most of it from my Blogger app. Also I was running on very little sleep yesterday and forgot to take pictures of most everything. The few pictures I do have were taken on my phone, so today's WIAW is brought to you by my phone....and of course Jen from
Peas and Crayons
.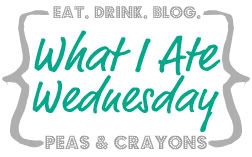 Breakfast
: Bowl of off-brand Honey Nut Cheerios and 1/2 a bagel with pumpkin spice cream cheese.
Morning Snack: Caffeine!
Biggest size Biggby has of a soy chai latte with two shots of espresso. I only had 3 1/2 hours of sleep and had an 8 hour work day ahead of me with 3 hours of meetings. I
needed
the caffeine.
Lunch:
leftover sloppy joes, with a side of corn, cucumber, and two cuties.
Afternoon Snack:
Craisins, veggies pizza (a co-worker brought it in), and green tea with honey in it.
Dinner: As promised last week, today I had dinner with my friend Chris and he made:
this great salad, with seasoned and cooked chicken, blue cheese crumbles, spinach and honey mustard dressing. It was sooo good! I brought the pineapple :)
Dessert: He made a kool-aid pie:
I had never had this before, but it was soo good! I'll have to try to find the recipe and post it on here.

Time for me to catch back up on my sleep. Goodnight (or since it's 5am, Good Morning to some!)