Today I am starting a new post, called What I Ate Wednesday. This is taken from a new blog I have started reading called
Peas and Crayons
. Every Wednesday...or at least most Wednesdays I'll post up what I ate for the day, so here goes.
Snack:
This is kind of a weird day to start this, because I had to work from 1:30a-7:00a, so my first food of the day came at 3:00am as a snack to help me stay awake. I had some Trader Joe's dried baby pineapple (unsweetened & unsulfured), Mom's Best Naturals Apples & Cinnamon oatmeal, and Twining's of London Cranberry Green Tea, with one packet of Natural sugar.
Breakfast:
I had breakfast when I woke up at 2:30pm. I had Chocolate Malt-O-Meal with some ground flaxseed that I added and a Yoplait light yogurt. It's their new flavor - Raspberry Lemonade, so good!
Dinner:
I made chicken fajitas at 8:30pm, with red and orange papers, onions, black beans and lettuce. I added some blakc berries and raspberries for my fruit and topped it off with a big glass of water. For dessert I had a peanut butter chocolate chip cookie at my mom's house (no camera with me so it's not pictured).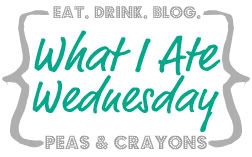 Join the What I ate Wednesday party!